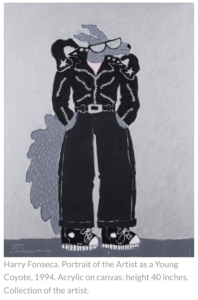 In the middle of the Covid-19 pandemic, when we didn't know if Davis Arts Center would survive the public health closure, our staff began creating the beginnings of what would become our elementary school arts curriculum, Discover Your Inner Artist. Looking to profile local artists, one of the artists and artworks we selected was Harry Fonseca, Portrait of the Artist as a Young Coyote, 1994, Acrylic on canvas. 
Harry Fonseca (1946-2006) was born in Sacramento and is of Nisenan, Maidu, Hawaiian, and Portuguese heritage. His indigenous roots, the California Gold Rush, and mythology are central themes in his work. With his artwork, Fonseca wanted viewers to question their expectations and definitions of Indigenous art.
We love this artwork because it challenges our young artists to reflect on ways they can portray themselves beyond recreating an exact likeness. Instead, young artists can share their story, interests, and values using a variety of mediums and imagery. As an artist, you can portray yourself however you would like to share your story. Harry Fonseca did just that when he portrayed himself as a coyote. 
Recently, I attended the opening of the Gorman Museum of Native American Art on the UC Davis Campus. I am thrilled that this museum has reopened, in a new location and with a new vibrancy. Due to the pandemic and the museum's relocation, I hadn't visited the museum in some years. While walking through the galleries, I found myself face to face with another painting by Harry Fonseca, another coyote, staring back at me. I experienced the delight of recognition  that comes from studying something and then seeing it in real life.
Davis Arts Center has been honored to share the work of Harry Fonseca with thousands of elementary school children in Sacramento. During November, which is Native American Heritage Month, I encourage you to look up his artwork or take a trip to the Gorman Museum of Native American Art at the UC Davis campus. Send me a note or comment on our post if there is artwork by a Native American artist that draws you in? Besides Harry Fonseca, I particularly like Marwin Begay (Diné, Navajo) and Jaune Quick-To-See Smith (Cree/Shoshone/Salish).
https://gormanmuseum.ucdavis.edu/
https://wheelwright.org/exhibitions/about-face-self-portraits-by-native-american-first-nations-and-inuit-artists/