Calling all neighbors, grandparents, family members, aunties, uncles, friends and babysitters!
Davis Arts Center is offering free art play sessions on Tuesdays and Wednesday in April and May for children and their caregivers!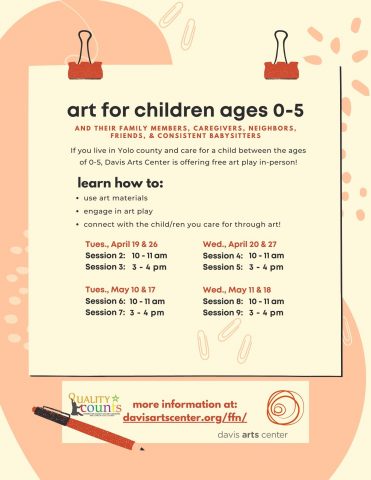 Davis Arts Center and First5 Yolo are partnering to bring art to you! The program funding is for family, friend and neighbor (FFN) providers and the child/ren they care for. FFNs are caregivers that have an informal relationship with a child they care for (not their own) such as a neighbor, friend of your child, grandparent, etc. In order to participate in the Family, Friend and Neighbor sessions, you must be a FFN. To participate in the program, these are the requirements that need to be met:
You are a caregiver of a child age 0-5 who is not your child (the child can be a family member, friend, neighbor, or on-going weekly babysitter)
The child/ren must live in Yolo County
The child/ren are between the age 0-5
If all of the above apply to you, please register for a session below!
Sessions are intended for caregiver and child. Parents can attend if available.
Session 2: Tuesday, April 19 and 26 at 10 AM
Session 3: Tuesday, April 19 and 26 at 3 PM
Session 4: Wednesday, April 20 and 27 at 10 AM
Session 5: Wednesday, April 20 and 27 at 3 PM
Session 6: Tuesday, May 10 and 17 at 10 AM
Session 7: Tuesday, May 10 and 17 at 3 PM
Session 8: Wednesday, May 11 and 18 at 10 AM
Session 9: Wednesday, May 12 and 19 at 3 PM