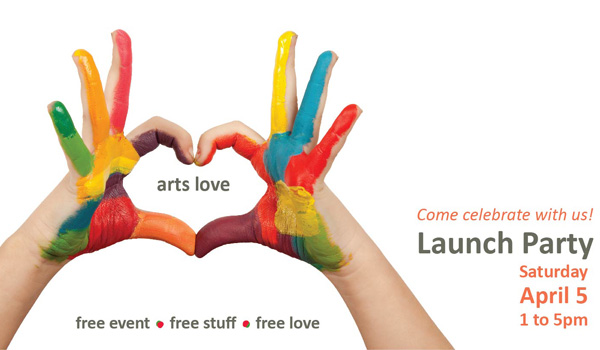 We love arts. You love arts. Arts have been part of Davis Arts Center for as long as we've been around — nearly 55 years. All the arts. And, for the last 30 years, all those arts have filled our Arts Center space and community to the brim. So, we decided it was about time to bring that S into our name! Not only have we added the S — we are celebrating that S. We want you to join us and help launch it into our Davis Arts Center future (with love).
We are so thrilled about welcoming S into our name, we have worked hard to give it the long overdue credit it deserves by partnering it with a new logo, website, database, and class registration system — the whole shebang. It deserves it. We deserve it, too. But, most of all, our Davis Arts Center community deserves it. Davisites and beyond deserve it!
Please come on April 5th and show us your love — about, for, with — all the arts. (And community!) Tell us why you love the arts, or specifically why you love the Arts Center. You can write it, color it, dance it, sing it, video record it. (We'll have activities and peeps to help you do this!) If you're shy, then just show us love by participating and listening … learning.
We promise to love you back. Not only will you get to experience bits and pieces of what happens in the Arts Center everyday, but you'll get free stuff. Nifty swag that we hope you'll wear and use proudly to show your support. Big free stuff, too. Like class SESSIONS. (Yes, entire sessions.) Everyone will have a chance to spin our prize wheel — everyone will walk away with a prize. And a hug, if wanted.
Love,
Davis Arts Center Board, Staff, Instructors, and incredibly awesome Volunteers
P.S. We will take your virtual love, too.
P.P.S. And, of course, we will take your monetary love any day … all day!